Get Involved
If you believe that no one in America should face poverty, join the
ENDING POVERTY: America's Silent Spaces
and become a poverty fighter! Ending Poverty: America's Silent Spaces is a growing movement to mobilize individuals, communities and organizations in the public and private sectors to identify innovative and community-based solutions that will inform a meaningful path out of poverty for our fellow citizens. Everyone can play a role. Raise your voice. Raise Awareness. Rally for change. By taking action in your community, you can be a part of the solution to alleviate poverty nationwide.
Become a Poverty Fighter! http://www.endingpoverty.net/
http://www.tavistalks.com/
No endorsement by Mr. smiley is infered or implied
Powered by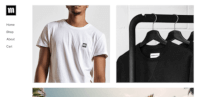 Create your own unique website with customizable templates.