We endorse the Democracy Now & their reporter. No mutual endorsement is implied or should be inferred. The copyright/trademark is that of the original author & website creator which this link follows.

Twenty years ago today, Democracy Now! went on the air on the eve of the New Hampshire primary. The date was February 19, 1996. The show began as a radio show on a handful of stations. It expanded into television five years later. Today, 5,000 episodes later, Democracy Now! airs on over 1,400 TV and radio stations. We spend the hour looking back at some highlights, including our first broadcast; Amy Goodman and Jeremy Scahill's investigation, "Drilling and Killing: Chevron and Nigeria's Oil Dictatorship"; President Clinton accusing Amy of being "hostile and combative"; our coverage of the 2004 U.S.-backed coup in Haiti; Juan González debating Lou Dobbs; the 2008 arrests of Amy, Sharif Abdel Kouddous and Nicole Salazar at the Republican National Convention; and our live coverage from the Georgia prison grounds where Troy Davis was executed. http://www.democracynow.org/2016/2/19/democracy_now_turns_20_a_freewheeling
Powered by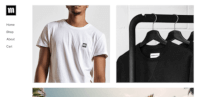 Create your own unique website with customizable templates.